PLSN Features Brown Note Productions, Inc. for Providing Production at Decadence Denver NYE 2016
From PLSN Magazine
Brown Note Productions Brings Global Dance's "City of Dreams" Vision to Reality – By Mike Wharton
The annual Decadence New Year's Eve Dance Celebration returned for the sixth year to the Colorado Convention Center. Touted as "America's Largest New Year's Eve Dance Celebration," the event is the brainchild of Ha Hau, owner of Global Dance, who collaborates with AEG Live and Live Nation to produce the two-day indoor EDM festival. Themed as the "City of Decadence," the celebration features top DJs on two main stage arenas backed with an impressive visual and audio production. Between these two performance spaces is an interconnecting area dubbed "The Chill Room" which features high-tech artworks.
Lights, Video, Effects, Audio
For the 2016/2017 event, which ran on Dec. 30 and 31, concluding 2 a.m. Jan. 1, Brown Note Productions provided all the rigging, lights, video, special effects and audio. Founded in 2004 by owners Sara and Ryan Knutson, the Thornton, CO-based company initially serviced festivals in the Denver area and tours for Sound Tribe Sector Nine, as an audio company.
Brown Note grew and expanded over the years, amassing an impressive inventory of lighting and video gear along with audio components. It has since emerged as a full-service production company. Although Brown Note has supported aspects to the Decadence NYE events in the past, the 2016/2017 event marked the first time they provided complete support for the festival's lighting, video, audio and special effects needs.
Joel Wojcik, Brown Note's visual production manager, acted as overall production manager for the company in supplying the event. He recently joined Brown Note's operations staff, bringing with him several decades of experience in entertainment production, both nationally and locally in the Denver area.
"I was attracted to Brown Note because they have such a great reputation for the quality and maintenance of their gear," says Wojcik, who has also relied on Upstaging, Christie Lites and LMG for an assist with gear on gigs where he's served as a lighting director and designer.
Other factors in Brown Note's favor, Wojcik says, include its attention to detail along with its impressive inventory of moving light fixtures, along with their track record at supporting the needs of festivals promoted by AEG and Live Nation over the years.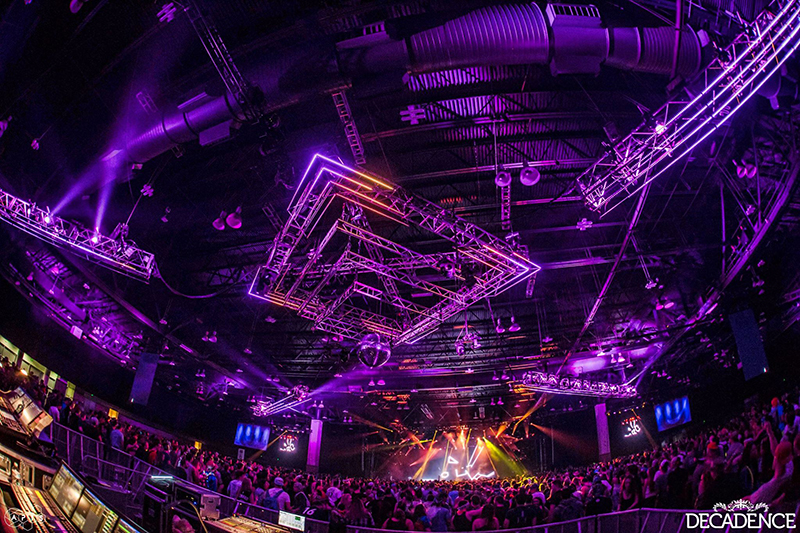 Rigging and Video Challenges
Rigging and weight restrictions posed some difficult challenges, according to Brown Notes' Wojcik. The usual obstacles with convention center rigging, such as access points, spanner beams, catwalks and ductwork, are compounded in the Mile High City by snow loads. A pre-rig for the 300 motors necessary to hang the show eased the time crunch involved in such an undertaking.
James Watt, Brown Note's operations manager, who served as video lead for Decadence, was able to provide a control solution that would link up and communicate properly with the AV components spread across the sprawling convention center space.
"For each hall, we had a stage wall and booth wall with I-Mag walls flanking offstage left and right," Watt noted. "Each hall also had six video delay column walls, much like P.A. delay stacks. The challenge was getting them data, as each column was 1oo feet apart. This amounted to eight zones, as one send for the VJ's, but you cannot see but one at a time from FOH. We did all our homework in terms of pixel-mapping, but given the size of the project as a whole, it was quite a challenge getting it all into one room. We had different pixel resolution, different product family and different speaking languages."
Most artists arrived with their own VJ who would tie into the video walls with their own video content. Alternatively, bands could have the house VJ run content to them.
Watt front-ended the video system with an Analog Way VIO 4K video scaler. With a simple button press, the fiber-to-fiber direct link box to box lets data flow upstream or downstream depending where the VJs wished to force their content. Not only does it solidify connection between house and stage, it eliminates the need to run two separate snakes.
When Watt joined Brown Note nine years ago, the company had a handful of employees, and owners Sara and Ryan Knutson had just bought their second P.A. system. These days, company now keeps 40 employees busy with an expanded inventory of lights, video, rigging and special effects.
"It's one thing to be on the cutting edge of technology, but the people behind all that is what really matters," Watt said, explaining the success that sets Brown Note apart from other production companies.
Brown Note enjoys a great working relationship with local trucking company, Shomotion. Because of this, crews were able to load the 16 trucks it took to transport the gear before Christmas so everyone could enjoy the holidays with their friends and families.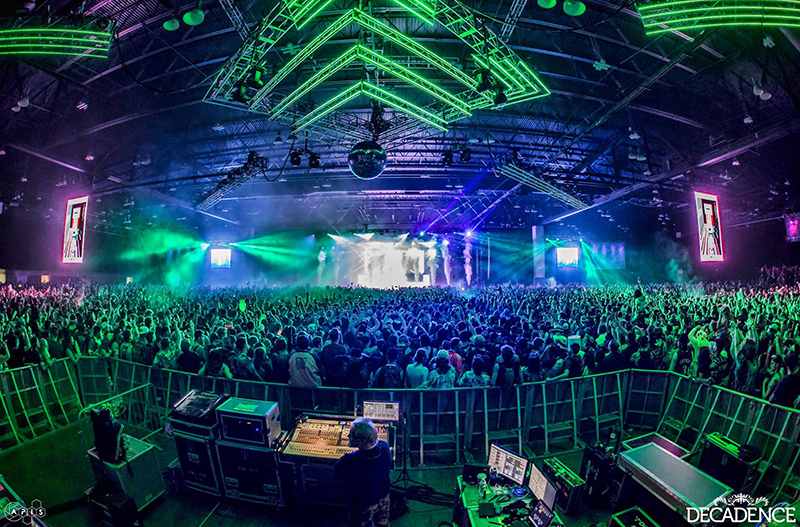 The Design Team
Julian Bradley is the president and co-owner of Electronic Sales and Production (ESP). Along with partner Jason Goetz, the two are the creative and technical directors responsible for the overall design of Decadence, although, as Bradley points out, "with an event this large, there is a lot of input from different sources."
Bradley's design firm has a 15-year relationship with promoter Ha Hau, the driving force behind Decadence and the Global Dance Festival at Red Rocks.
"From my personal point of view," said Bradley, I have seen Brown Note grow exponentially, both locally and nationally. This year, the producers felt it was important to reach out to other players by widening their scope of requests for bids on Decadence. At the end of it all, they agreed with us — Brown Note was the perfect fit for the event this year. The Brown Note staff and crew onsite deserve a lot of credit for delivering that much gear with flawless execution."
The Layout
The festival spans the entire second floor of the Colorado Convention Center, in three separate, but connecting, halls. In one hall is the DayDream Stage with a roster of artists including Flume. Tiesto headlined the other stage called TimeKeeper. Other big acts bringing their shows to these two spaces during the last two nights of 2016 included Bassnectar, The Chainsmokers, Eric Prydz, Marshmello, Zeds Dead, Disclosure and GRiZ.
Revelers looking for a moment to catch their breath and get a second wind could visit the urban wonderland called the Chill Room. This "quiet zone," which also served as a buffer between the audible beats and musical mayhem going on within each stage area, also connected the two stages.
"Since Decadence takes place in downtown Denver, it is a bit different from other festivals, which is why we base our design on an urban feel," Bradley said, as in explaining the theme of the Chill Room. The room, carpeted with Astroturf, mimics a city park. Scattered throughout are LED "trees" of varying hues and luminance.
ESP concentrated a lot of their Madrix software technology in the design and creation of the visual effects that could be seen in this room, which was comparable in size to the main stage rooms. 3D LED wall displays utilizing video mapping created effects around the park. ESP also designed props for art pieces using LED and the Madrix software, which were in the Chill Room's various and secluded nooks and crannies.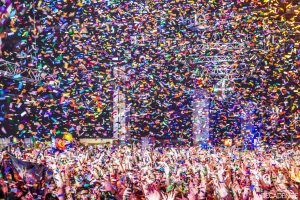 "Decadence is an open-themed event," said Bradley. "We design a rig that is unique to the Decadence Festival, but incorporate at least one of the more prominent fixtures from the headliner plots. This year, 'City of Decadence' became 'Decadence — City of Dreams.' The designers created an 'industrial dream catcher' effect over the dance floors at the TimeKeeper and DayDreamer stages. Articulating motorized arms layered parts of the 'dream catcher' oculus to approximately 12 feet off the dance floor.
"LED is the main part of our specialty as a design company," Bradley continued, "but we do not involve ourselves with panels or tiles; it is more about pixels. At ESP, we have really mastered an understanding of how Art-Net networks with LED through our knowledge of working with the Madrix control system since its inception in 2007.We ran close to three miles of network cable to transmit 80 universes of DMX over Art-Net in each room."
Matt "Jonezy" Jones has been involved with ESP and Decadence for several years, primarily as a programmer/ operator. This year, Bradley brought him on to fill a wider role. Jonezy served as lighting designer, and he also handled all the Vectorworks and CAD workloads.
While AEG's only edict was that each stage be equal in stature, Jones' baseline canvas included pulling elements of each artists design into his, as Bradley suggested. "My design philosophy is to take the music in and spit out what it looks like," he said, "which is necessary with EDM because it's a full-on visual assault."
His design company is named after synesthesia, the neurological phenomenon that takes place when one sensory pathway leads to automatic, involuntary experience in a second sensory experience — for example, when people say they vividly "hear" colors or "taste" shapes.
Jones needed to hire a second lighting director to handle house duties for the TimeKeeper stage, since he would handle directorial duties on the DayDream stage. His call to friend Bobby Grey turned out to be most fortuitous. "Not only is Bobby one of nicest guys I have met in the business, he is also in my opinion, one of the best MA guys in the world." To top it all off, Grey was currently working with Tiesto, who would be headlining the TimeKeeper stage.
"The fascinating aspect about this business for us is the technology side, and how much the LED networks have grown so rapidly; even in the last few years," said Bradley. "We are right in the middle of all this, but it still just boggles the mind as to where all this can go and how fast it can do so."
That, after all is said and done is the essence of a dream