Brown Note Productions is happy to announce the arrival and departure of our first Waves LV1 system. The console headed out with American Authors this past week on their latest US tour. The eMotion Waves LV1 is a revolutionary digital mixing console based on Waves SoundGrid technology. This software mixer delivers superior sound quality as well as the quick and convenient workflow needed in demanding live environments. Each of the mixer's channels has its own plugin rack capable of running up to eight Waves and third-party plugins. This means you can mix live with hundreds of your favorite plugins — all running inside the mixer itself. All plugin presets and chains saved in eMotion LV1 can be shared with the Waves MultiRack and StudioRack plugin hosts, enabling you to move seamlessly between live and studio environments. eMotion LV1 uses the SoundGrid infrastructure for audio networking. It can be configured as a portable or stationary setup, and can connect to any SoundGrid-compatible I/O or server. This means the console is 100% portable and easy to carry with you and run anytime, anywhere — at home, in your hotel room, on the tour bus, or at the venue.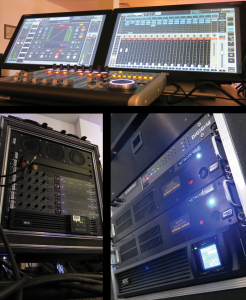 Features:
64 stereo/mono input channels, 36 buss/return channels
Run 8 SoundGrid-compatible plugins directly on each channel
Standard channel processing provided by Waves eMo plugins
16 auxes, 8 audio groups (stereo/mono), L/R/C/Mono, 8 matrixes
16 DCA faders, 8 mute groups, 8 user-assignable shortcut keys
32-bit floating point mix engine; up to 96 kHz sample rate
Compatible with industry-standard control surfaces
Connect to diverse SoundGrid I/Os & drivers and to multiple DAWs
Windows/Mac 64 bit-compatible
Contact Brown Note Productions to speak to one of our Waves specialists about adding the Waves LV1 console to your tour or production.