Brown Note Productions just added a fleet of Martin Mac Viper AirFX to our inventory. These super versatile luminaires have all the beam light qualities we know and love from the Martin Mac Viper Profile with the added benefits of increased intensity and the ability to snap or fade into a wash light at any moment. The AirFX come in at 35000 Lumens, a 35% gain in intensity from the standard Profile. They also come with an all new gobo selection, making it easy to achieve a variety of looks.
Contact Brown Note Productions to talk to an expert in our lighting department about adding the Martin Mac Viper AirFX to your production.

(303) 665-9586
info@brownnote.com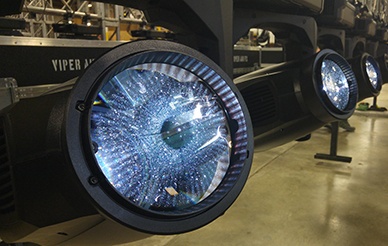 Description
Both flexible and efficient, the MAC Viper AirFX is a new concept that combines hard-edge, mid-air effects and a beautiful wash field in one luminaire. Featuring a great selection of all-new gobo designs, hard-edge effects remain stunning across the fixture's entire 11 – 58° zoom range. Capable of snapping or fading into a wash light at any point, a unique and highly efficient optical system means the MAC Viper AirFX can offer the features of a profile at the output of a wash light.
The Viper AirFX has adopted the compact form, impressive speed, superior light quality and beautiful colors that the MAC Viper Profile is renowned for. It is also based on the same 1000-watt lamp for an output that convincingly exceeds any larger, heavier and more power-demanding 1500-watt profile fixture.
Features:
34500 lumens – excellent light quality
1:5 zoom – 11 to 59 continuous zoom with auto-linked focus
160 mm precision PC front lens for fat beam looks
Frost – snap or fade-in for beautiful wash effect
Rotating gobo wheel with 5 replaceable designs
Static gobo wheel with 7 designs
CMY -Vibrant color mixing with a superior palette of colors including true reds, rich ambers, primary green and deep blues
7-slot color wheel – fixed colors for added color choice
Linear CTO – Daylight to tungsten CCT control and expansion of the CMY palette
Dimmer and shutter – Combined dimmer/shutter system with intensity effects, instant blackout/open and smooth fades
Iris – Fast and tight iris with adjustable dynamic effects
Diverse strobe effects